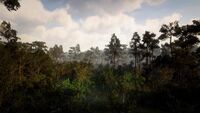 Hell Creek is the main setting of the video game Saurian. Geographically located in the American northwest, it yields fossils of some of the most famous dinosaurs, such as Triceratops and Tyrannosaurus. In particular, Saurian takes place in a fossil site of the Hell Creek Formation referred to as Bone Butte, the location where Dakotaraptor was discovered.[2]
Hell Creek is currently the only location featured in Saurian, however, the developers have stated that the Two Medicine Formation with Gorgosaurus and Styracosaurus (Rubeosaurus under its invalid classifcation Styracosaurus ovatus) as playable dinosaurs will be made if their Kickstarter campaign reaches $300K.[3] The Duluth News Tribute has also reported that if the base game retains a fervent audience, future versions will feature locations based on other fossil formations, such as the Morrison Formation.[4]
Dryophyllum subfalcatum[6]
Erlingdorfia montana[7]
Equisetum 
Fokienopsis catenulata[8]
Gleicheniaceae
Marmarthia pearsonii[6]
Palaeoaster inquirenda[5]
Platanites marginata[10]
Behind the scenes
Edit
The Hell Creek Formation was chosen by the developers because it was where Triceratops and Tyrannosaurus lived, both which are famous dinosaurs.[11]
Notes and references
Edit